Synopsis
Following the footsteps of my deceased father, I was the president and
producer of the small video company "Kiseki Entertainment", and I was able to discover the miracle! I was struggling every day to liven up.
What emerged in front of me was "Evolver," four people with different positions and personalities.
Simon is known as a genius scientist.
Kira is a popular idol.
Haku who works as a police officer at the Evolver Crime Prevention Bureau.
And Zen, the Farley Group CEO who is the investor of my company.
Encounter with them Evolver leads me to the truth of my father's death, the memories I lost,
and the huge conspiracy behind them.
What is the truth that I and them can reach before they continue to run at their best?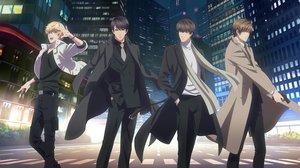 Original title
恋とプロデューサー~EVOL×LOVE~
First air date
Jul. 14, 2020
Last air date
Jul. 14, 2020
Average Duration
23 minutes